This is how our solution can be integrated
We briefly present the different types of integration. Please contact us for further information.
Plugin solution
Optimal shop integration with minimal effort
Easy and fast integration
Plug-and-Play solution for a variety of shop systems
Integration with the shop's look-and-feel
Great customer experience
Highest conversion rates
Continuous optimization through A/B testing
No maintenance work needed
Our simplesurance Plugin in action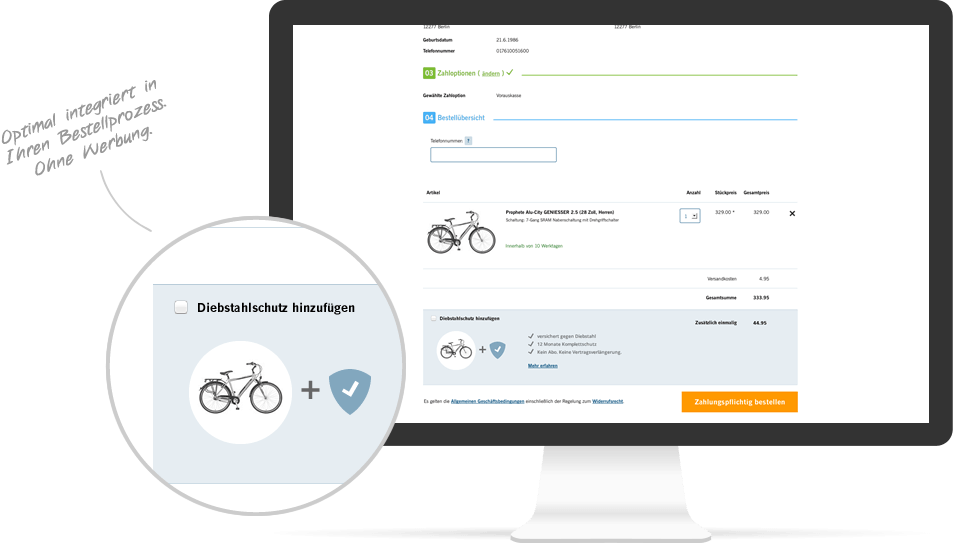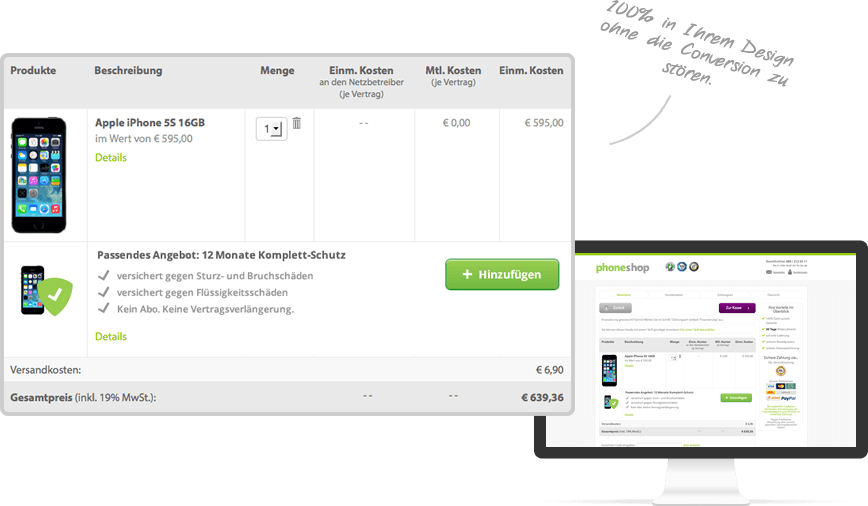 All benefits at a glance

Simple business model: Increase your revenue per shop-customer

Conversion rate optimised. No interruption to the order process.

Full performance: modern and light code made in Germany.

Free and easy. You only invest 5 minutes.

100% your shop design. Our solution optimally integrates into your shop.

No paperwork for you. First-class service for your customers.
Compatible with custom developments and all current shop systems, i.a.:
API integration solution
Personalized integration
Highest flexibility to integrate our solution
Several possible touchpoint within your frontend
Integration into e.g. product configurators
Integration into mobile apps and portals
Consulting with our UX consultants
Synchronous and Asynchronous processing
Full control over integration
Whitelabel shop
360 degree marketing solution
Creation in your look and feel / CI
Solution for E-Mail campaigns
Solution for after sales campaigns
Solution for retargeting activities
Afersales selfservice solution for customers
Print2Web
Optimised for mobile and desktop
Partner portal
Insurance purchase for customers
Sales solution for local shops
Sales solution for call centers
POS offering of insurance products
Solution for incentivising customers with insurances
Easy & flexible
Based on our very impressive customer feedback we regularly and proactively ask for, we're proud being awarded to be the "Best eCommerce Insurance 2021". Our customers' feedback relate not only to insurances and warranty extensions we offer but also to their great customer experience while purchasing and in case of claims.
Become a simplesurance partner
Our sales team is happy to answer any of your questions. Fill out the form and we will be in touch as soon as possible.
Thank you for your interest! We will come back to you shortly.